Conduct a survey.
Let your participants vote anonymously.
Create a poll!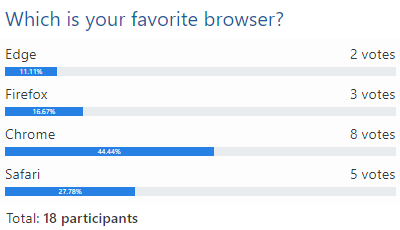 View example
Set up a survey and let people vote anonymously.
Do you want to find out what your colleagues think about the team-event that you organized or do you need an objective opinion about a presentation that you gave? Xoyondo can help! Simply set up an anonymous poll and let them decide without revealing their identity. You can easily set up multiple polls on one page and choose wether you want to allow users to make multple choices or only a single one. After the setup process you will receive a link to your poll that you can share with the participants via email or in a social network. The participants don't need to be registered to vote in your anonymous poll.