Make the ideal choice by asking people for their opinion.
Are you planning a birthday party and want to find out what your guests want to eat or are you organizing a team event for your company and want to know what your colleagues would like to do? Xoyondo can help! Simply set up a poll and let them decide.
Only three simple steps:
1. Specify possible options
Formulate your question or topic of the poll and specify several possible answers your participants can choose from. You can modify, add or delete answers later in the admin area of the poll.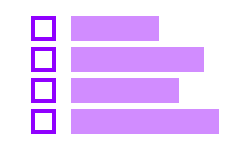 2. Send invitations.
Invite the participants to vote in your poll by sending them the unique link to the poll website. You can send the invitations yourself or directly via Xoyondo.
3. Get the best choice
Each participant can vote for his preferred option. The results are displayed in a clear tabular format so that you can easily determine the best choice.